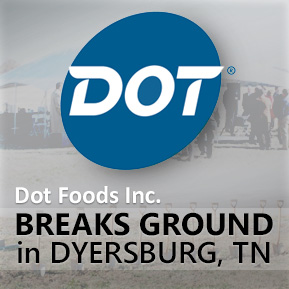 August of this year, Dot Foods officials with Tennessee Gov. Bill Haslam and Economic and Community Development Commissioner Bill Hagerty announced that the 9th distribution center for the company will be situated in Dyersburg, TN.
On November 14th 2013, marked the date the nation's largest food redistributor, started construction on the new state-of-the-art distribution center in Dyersburg, Tennessee, located in the Dyersburg Industrial Park on State Highway 211, 75 miles northeast of Memphis.
This is a $24 million investment for the region with an estimated 157 new jobs created. This is the first presence within TN however the location and logistics were a perfect fit.
Dot Foods Inc. carries 105,000 products from 650 food industry manufacturers and is first and the largest food redistributor in the United States. Dot Food Inc. a family owned and operated company for over 50 years caters to the foodservice, convenience, retail and vending food products to distributors in all 50 states. Products are consolidated and delivered in less-than-truckload (LTL) quantities to distributors nationwide on a weekly basis.
Company officials said it took about three years to settle in on the Dyersburg location. In the end, it was the family atmosphere that influenced the final decision.
"We are excited about the opportunity to open our newest distribution center in Dyersburg," said John Tracy, CEO of Dot Foods. "We conduct extensive logistics analysis on where and when to open a new distribution center and we chose Dyersburg because of the community's support, proximity to other Dot Foods locations and customers, as well as its cultural fit with our company. We're also equally excited to appoint Tim Loyd as the new facility's general manager."
"Tennessee's ideal location and exceptional infrastructure offer distribution companies unsurpassed efficiency and proximity to customers around the globe," Hagerty said
The 166,494-square-foot distribution center is scheduled to be completed in September 2014. There is a temporary office the distribution center site where the company is beginning to hire truck drivers and other staff positions. All DTI truck driver positions will be posted on www.DriveForDot.com and all open Dot Foods positions will be posted on the careers page at www.DotFoods.com.
For information, visit www.dotfoods.com.
(http://tn.gov "Governor Haslam, Commissioner Hagerty Announce Dot Foods to Build New Facility in Dyersburg" August 26, 2013 http://news.tn.gov/node/11243 Retrieved on: December 10, 2013)